Konferencia pre učiteľov angličtiny
International House Bratislava v spolupráci s Cambridge University Press & Assessment vás pozývajú na konferenciu pre učiteľov angličtiny.
17-ty. ročník konferencie
Kedy?

18.2.2023 (sobota)
8:00 - 14:00
(Registrácia je už uzavretá)

Kde?
priestory IH Bratislava, Námestie SNP 14
(prezenčne)

You can look forward to seeing practical workshops delivered by our academic team members and qualified and experienced techers.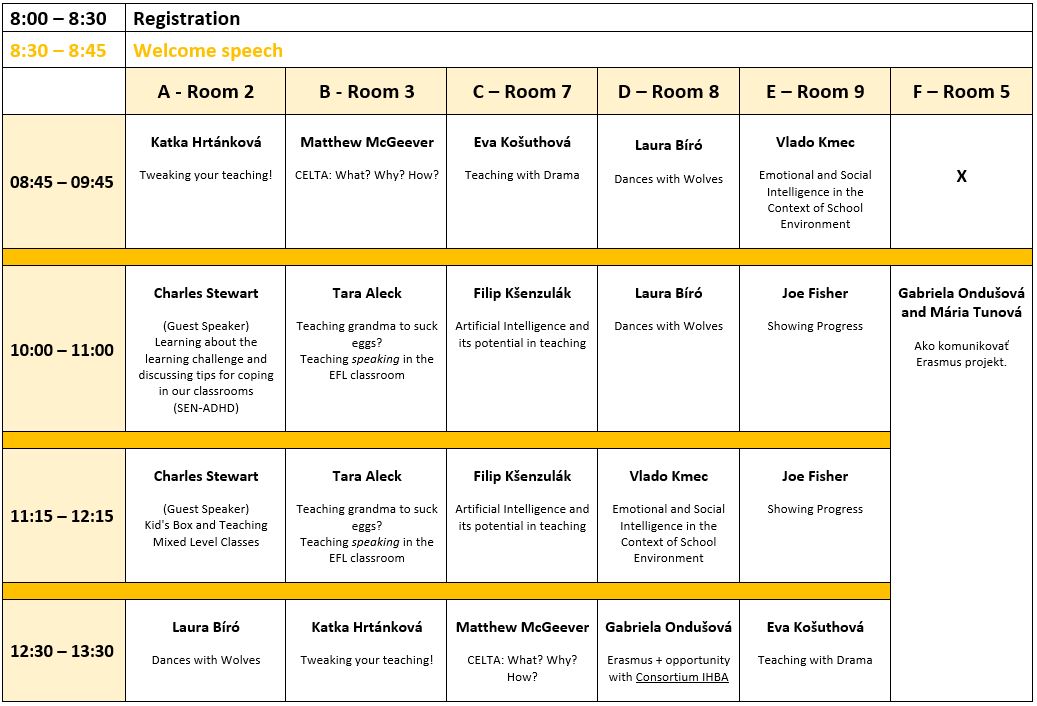 Speakers (in alphabetical order) and Blurbs

Tara Aleck
Teaching grandma to suck eggs? Teaching speaking in the EFL classroom
In this workshop we will take a deep dive into teaching the skill of speaking; analysing the microskills involved in oral interaction and how to develop these skills in the classroom.


Laura Bíró


Dances with Wolves


I am not sure how many of you have seen the film whose title I have purloined to be used as the title of my session, but you might know that this 1990 epic western film is about establishing rapport, developing respect and learning appreciation for others. Isn't it basically the same as what we all wish to achieve with our students? In this workshop we will look at activities which might come in handy when it is always the same students who answer the questions, when students refuse to work with each other and also when we see disappointing lack of interest in talking to each other. Come along to try some activities, share your ideas and enjoy dances with wolves from your pack.


Joe Fisher


Showing Progress


In this session Joe looks at how a sense of progress can affect the motivation of language learners. He will also be presenting a few techniques that can be used in class to demonstrate the value of your lessons to the learners.


Katka Hrtánková


Tweaking your teaching!


We want our young learners to make progress and enjoy the time they spend with us. So what can we do to make our lessons more memorable, motivating and fun?
In my workshop we'll be looking at 'fillers' to add to the lessons to make them smooth but remarkable at the same time.


Vlado Kmec
Emotional and Social Intelligence in the Context of School Environment
In the workshop we´ll be trying to answer the questions why emotional and social intelligence matters as much as IQ (or maybe even more) and how school staff could benefit from being able to understand (or maybe even manage) their own as well as the others´ feelings and the impact they have on personal interactions.


Eva Košuthová


Teaching with Drama


In this workshop we´ll minimize the use of chairs, pens or paper. Instead, we'll utilize our bodies, vocal cords and imagination. So come to move around, play and have fun. (…and learn something in the process ????).


Filip Kšenzulák


Artificial Intelligence and its potential in teaching


Unlock the power of AI in your English classroom. In this workshop, designed specifically for English teachers, we will discover how Artificial Intelligence can revolutionise the way you teach. From natural language processing to machine learning and computer-assisted language teaching, you'll learn the latest AI developments and how to personalize instruction and enhance language learning. This interactive workshop is packed with hands-on learning and practical ideas you can use in your classroom immediately. (this invitation was created by Artificial Intelligence)


McGeever Matthew


CELTA: What? Why? How?


CELTA is "the most widely recognised English teaching qualification in the world" (www.cambridgeenglish.org) and International House Bratislava is the only authorised centre in Slovakia to provide this course. Come join this workshop to see WHAT is included on a typical CELTA course; WHY the course is special in terms of practical teaching experience and developing student-centred teaching techniques; and HOW to join a course which is best for you (face-to-face or online; full-time or part-time).


Gabriela Ondušová
Erasmus + opportunity with Consortium IHBA
The workshop provides you with a general overview of Erasmus mobility opportunities for teachers and partner schools who have strong interest to take part in Erasmus+ . You will get information about the programme and we will cover a diverse range of actions.
You will get answers to the following questions:
What is Erasmus+?
What type of actions are involved?
Who can participate?
How to apply?
What the grant covers?

Ako komunikovať Erasmus projekt
Workshop je určený pre koordinátorov z partnerských škôl IHBA Konzorcia a bude prebiehať v slovenskom jazyku.
Povedzte svoj Erasmus príbeh. Urobte dojem! V tomto praktickom workshope sa zameriame na to, ako efektívne komunikovať náš projekt a výsledky. Budeme hovoriť o komunikačných aktivitách. Získate praktické zručnosti pre používanie nástrojov na disemináciu ako dôležitý prvok zdieľania a výmeny informácií o projekte, napredovaní projektu ako aj o výsledkoch, aby bola zabezpečená udržateľnosť našich aktivít. Správna komunikácia zabezpečí: zapojenie zainteresovaných strán, ukážku vplyvu vášho projektu, rozšírenie vašej siete, podporu šírenia, zvýšenie povedomia občanov o tom, ako sa míňa rozpočet EÚ, a ukáže úspech.
Prineste si počítač.



Guest Speaker from Cambridge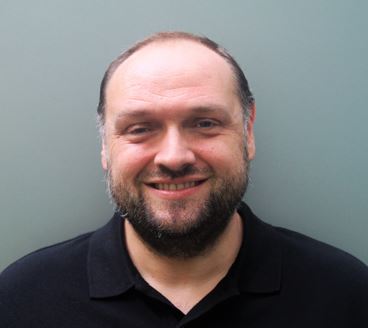 Charles Stewart
Charles Stewart has been working in the ELT field since 2011, teaching ESL, speaking at various ELT conferences around the Czech Republic and writing and delivering teacher training in several countries around the world. Throughout his teaching career, Charles has been fortunate to teach all levels, both young learners and adults. However, over the last several years, his focus has been drawn more towards teaching young learners, both general English for Primary ages, and exam preparation classes for secondary students. Consequently, Charles is heavily involved in the Young Learners Department at the British Council in Prague, where he currently lives and works, and teaches Exam preparation at a local Czech Gymnasium (High School).


Learning about the learning challenge and discussing tips for coping in our classrooms (SEN-ADHD)
In today's every complex and inclusive classroom, we face learners with a variety of Special Learning Challenges. One of the more common SEN Conditions that is prevalent in virtually every class is Attention Deficit Hyperactivity Disorder (ADHD). In this workshop, we will focus on 2 main areas: identifying common symptoms and discussing the implications of having a student with ADHD in our class. By the end of the workshop, all participants should have a better understanding of ADHD and walk away with various tips for dealing with a student who has this condition.

Kid's Box and Teaching Mixed Level Classes
Mixed ability classes have become the norm in ELT, and it seems that we, as teachers, must cope with a greater range of mixed abilities within the same class nowadays. In this workshop, we will explore ways and tips for coping with Mixed Ability Classes and look at various strategies for differentiating activities within a coursebook, referencing the newly updated Cambridge Kid's Box series






Konferenciu organizujeme v spolupráci s:
Cambridge University Press & Assessment





Vybrané workshopy boli pripravované účastníkmi mobility Erasmus+



Povedali o nás

Odozvy na 16-ty ročník IH ELT konferencie v 2022

I really enjoyed today´s conference. Olha provided many interesting and inspiring thoughts that I´ve written down and will use in the future.

I thought the conference was well organised. The sessions were of adequate length (neither too long nor too short) and there were regular breaks between sessions which was nice. The sessions were interactive and good use was made of the breakout rooms. The topics were quite practical and a lot of ideas were exchanged.

The conference was very well organised, convenient and efficient. Useful and up-to-date topics, a good balance of lectures and practice (in groups), useful sharing amongst peer learners. Frankly, I got much more than I expected (even more than from some life conferences). I am looking forward to real ones, nevertheless. Thank you! Katarina

I am glad I attended this conference as it was a great experience not only because I was introduced to new teaching techniques but because it was really interesting to share tools with other teachers. I would be happy to attend the event again next year as I genuinely feel that sharing will enrich everyone with more knowledge.

It was well organized and interesting. The info was concise and informative. Good food for thought.

Good time frame for the workshop, nice breaks, 5 workshops are quite enough, well led, breakout rooms very well organized, Overall, I'd say I'm satisfied with the conference.


I think Olha's Plenary raised some really well made points about teaching skills, how students can use those skills to learn English, as well as other subjects as well. Lots to think about how I can implement these ideas into my own lessons with adults.

Inspiring and thought provoking.

Brilliant, inspiring, helpful, relaxed :-)

The plenary session as well as most of the seminars were interesting and inspiring. Thank you.

Everything ran smoothly and was a great chance to do some digital professional development. Thanks!

Thank you for organizing the conference and inviting me to join in. The time invested in it has been worthwhile.

Thank you. All the speakers provided me with very useful advice, highly applicable in my learning-teaching process. Moreover, it was a joy to be with them. Thank you again.

Everything went well, the emails with the links were sent on time and I had no issue joining any of the sessions. The timing was respected with regular breaks.

Thank you for organising it. I had a great online time :) I used some of the ideas in my classes on Monday.




Odozvy na 15-ty ročník IH ELT konferencie v 2021 (po prvýkrát online)

"Thank you so much for the opportunity to see smart people in one place). The organisation was great. The speakers are the best."

"Thank you very much for organizing this conference, it was simply great and useful. Many new tips for teaching, interesting ideas for online lessons. Ben Goldstein as the main speaker was excellent. Thank you for the time, energy and effort you all put in, was definitely worth it."

"Thank you for amazing webinars, they were interactive, everything ran smoothly and the content was very inspirational and enlightening, including the plenary session!"

"It was my first experience and I was really satisfied with everything - communication, program, punctuality, running everything smoothly - I mistakenly had expected some technical problems. Luckily, there were no problems at all."

"I really enjoyed the conference. I appreciate that the workshops I took were really interactive. Thank you."

"The conference was very helpful. Thank you very much! :) :) :)"

"It was professional and worth participating in this conference."

"The conference was very nice for me. All lecturers were excellently prepared. Thank you very much. I am very glad that I was able to participate. I will definitely use themes in my work. I really liked it. I wish the whole team all the best, especially health."

"Online form was good for me. I didn´t have to travel. And it was well-organised from the very beginning. Thank you all."

"Thank you for a perfect organization,good presenters and useful topics."

"It was very well organized and I enjoyed it as always :)"

"Organization of the conference online was a great idea. I thank for overall organization and technical support to the IHBA staff and presenters for inspirational workshops :-)"

"Thank you for organising this event, it was an amazing experience and I am already looking forward to attending your next event :)"

"Thank you to all the presenters and IHB for a great conference. Hope to meet you face to face next year!!"

"It was very well organised, no technical issues involved.Thank you very much :-)"

"Very well organized and prepared sessions.Quite informative overal."

"Although this was a first year of this conference being run online, it was professionally organised and well-managed."

"Great experience and I've found many interestings ideas! Thank you, IH!"

"My big THANK YOU to everybody involved in organizing of this event. It must have been a lot of work, but it will certainly pay off. Great job!"

"Well-organized from the technical point of view. The speakers were very friendly and professional. Looking forward to the next conference!"


Odozvy na predchádzajúce ročníky (offline):

"Dobrý deň, milé dámy a páni,
chcem sa poďakovať za nesmierne prínosnú a výborne zorganizovanú sobotnú konferenciu. Nakoľko som musela odísť o niečo skôr ako bol oficiálny koniec, neodovzdala som feedback, dovolím si teda aspoň touto formou zareagovať.

Hlavná téma s Olha Madylus o domácich úlohách bola nesmierne užitočná...prítomná som bola aj na session Assisting YLs with difficulties in learning English Alexandrosa Vagenasa, Videos Lydie Melnovej a Wortschatzarbeit Kristiny Klug - všetky boli veľmi fajn a helpful.

Som veľmi rada, že som sa konferencie zúčastnila, prajem celému organizačnému teamu veľa dobrých nápadov do budúcnosti a teším sa na ďalšie ročníky.

S pozdravom
Renáta Bošňáková"



"A very informative event. I´ll be sure to apply what I have learnt. Thank you!
Great speakers. Tank you!
Inspiring activities I want to an I wil try in my classes.
I enjoyed it very much. Thank you!"

"Dobry den prajem,
chceme sa velmi pekne podakovat za fantasticku konferenciu. Hodnotim ju ako profesionalne vyborne zorganizovanu, casovy harmonogram bol dodrzany, neboli meskania a prestoje. Vsetko plynulo hladko. Viem, ze je za tym kopec roboty a organizacie, aby vsetko klapalo.
Som velmi rada, ze sme sa jej zucastnili a tesime sa na dalsie rocniky.
S nasimi lektorkami sme sa zhodli, ze to bola uzitocne stravena sobota.
A ja osobne som rada, ze som sa konecne osobne zoznamila s pani Slavkou Novomestskou :)
Pekny tyzden prajem
S pozdravom
Mgr. Eva L."

"...thanks for sending me the photos from the IH Conference 2014.
For me, it was really an inspirational day.
Thanks for good seminars full of interesting thoughts and ideas which have given me a new motivation and desire to improve my teaching skills.
I have already given the references to my colleagues.
We are looking forward to the 10th IH Conference."
Oľga

"Thank you for this email with some useful information and especially nice photos. I enjoyed the conference very much."
Andrea