IH Conference for teachers
International House Bratislava in association with Cambridge University Press is proud to present its ELT conference.
14th International House Bratislava Conference for English Teachers

Programme 2020
We will send the registration links for the specific workshops only to the attendees who have paid the fees.


When?

15th February 2020

Where?
International House Bratislava, Námestie SNP 14


How much?

15€ (IH Bratislava teachers free of charge)
Places are limited to the first 80 replies

Main Speaker
Matthew Ellman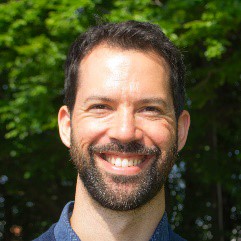 Matthew Ellman works as regional ELT Trainer for Cambridge University Press, delivering training for teachers and institutions across Europe, the Middle East and North Africa. He has worked as a teacher and trainer in the UK, Spain and Malaysia, where he was responsible for managing training to British Council teachers nationally, and has delivered workshops and talks in a further 20 countries. Matthew sits on the committee of the IATEFL Teacher Training and Education SIG, and was the winner of the British Council's MA Dissertation Award at the 2018 ELTons. Find him on Twitter at @MatthewEllman.

Also on the day
a variety of practical seminars on the current methodology of language teaching presented by experienced teacher trainers and teachers of English
ideas and activities which you can put to use immediately
book displays by a number of renowned publishers

Conference is organised in cooperation with:
Cambridge University Press





Newsletter


Archív:





Povedali o nás
"Dobrý deň, milé dámy a páni,
chcem sa poďakovať za nesmierne prínosnú a výborne zorganizovanú sobotnú konferenciu. Nakoľko som musela odísť o niečo skôr ako bol oficiálny koniec, neodovzdala som feedback, dovolím si teda aspoň touto formou zareagovať.

Hlavná téma s Olha Madylus o domácich úlohách bola nesmierne užitočná...prítomná som bola aj na session Assisting YLs with difficulties in learning English Alexandrosa Vagenasa, Videos Lydie Melnovej a Wortschatzarbeit Kristiny Klug - všetky boli veľmi fajn a helpful.

Som veľmi rada, že som sa konferencie zúčastnila, prajem celému organizačnému teamu veľa dobrých nápadov do budúcnosti a teším sa na ďalšie ročníky.

S pozdravom
Renáta Bošňáková"



"A very informative event. I´ll be sure to apply what I have learnt. Thank you!
Great speakers. Tank you!
Inspiring activities I want to an I wil try in my classes.
I enjoyed it very much. Thank you!"

"Dobry den prajem,
chceme sa velmi pekne podakovat za fantasticku konferenciu. Hodnotim ju ako profesionalne vyborne zorganizovanu, casovy harmonogram bol dodrzany, neboli meskania a prestoje. Vsetko plynulo hladko. Viem, ze je za tym kopec roboty a organizacie, aby vsetko klapalo.
Som velmi rada, ze sme sa jej zucastnili a tesime sa na dalsie rocniky.
S nasimi lektorkami sme sa zhodli, ze to bola uzitocne stravena sobota.
A ja osobne som rada, ze som sa konecne osobne zoznamila s pani Slavkou Novomestskou :)
Pekny tyzden prajem
S pozdravom
Mgr. Eva L."

"...thanks for sending me the photos from the IH Conference 2014.
For me, it was really an inspirational day.
Thanks for good seminars full of interesting thoughts and ideas which have given me a new motivation and desire to improve my teaching skills.
I have already given the references to my colleagues.
We are looking forward to the 10th IH Conference."
Oľga

"Thank you for this email with some useful information and especially nice photos. I enjoyed the conference very much."
Andrea