Study abroad in England
The UK – Ellesmere (Ellesmere College)
School: International House London
Location: Shropshire
Participants' age: 12-17 yrs.

The date of the stay (from Wednesday to Wednesday)
1 week: 8.7.2020 - 15.7.2020

877 € (payment after 1.1.2020 - possibility to pay in 2 installments)

2 weeks: 8.7.2020 – 22.7.2020

1666 € (payment after 1.1.2020 - possibility to pay in 2 installments)
1960 € Football Academy (possibility to pay in 2 installments)
Registration and payment deadline: 15 May 2020
Registration form - Ellesmere
Terms & conditions (pdf)
You can choose from three types of courses:
Active English: English 20x45min. les./week, 6 hours of activities with a professional coach (1 activity / 1 wek): golf, tennis, football, basketball, photography, performing arts, swimming, adventure
English Plus: English 28x45min. les./week
Football Academy: This course is ideal for anyone who aspires to be a future football star. It offers students the opportunity to experience what it's like to be a professional footballer and take their game to the next level. During the course, a professional football scout will attend training sessions and assess each player´s ability. At the end of the two-week course players will take part in a full match to show off the skills they have learnt along with a trophy ceremony.
The price for Active English and English Plus includes:
English lessons
Accommodation and board at the boarding school
Group transfer from/to the airport
Study materials
Using the facilities of the school
Trips and social programme
Active English - 1 of 6 possible activities with professional coaches per week : golf, tennis, football, basketball, photography, theatre, dance, art and design, swimming
Final certificate
24 hour supervision
The price for Football Academy includes:
Football trainings, all coaches are UEFA qualified
Classroom-based sessions to give students information on diet and lifestyle as well as match analysis and target setting
A full playing kit including a strip, shorts and socks
Accommodation and board at the boarding school
Group transfer from/to the airport
Using the facilities of the school
2 full-day trips and 2 half-day trips and social programme
Final certificate and
24 hour supervision
The price does not include:
Airfare
Pocket money / £50 per week
£50 refundable damage deposit


Sample schedule for Active English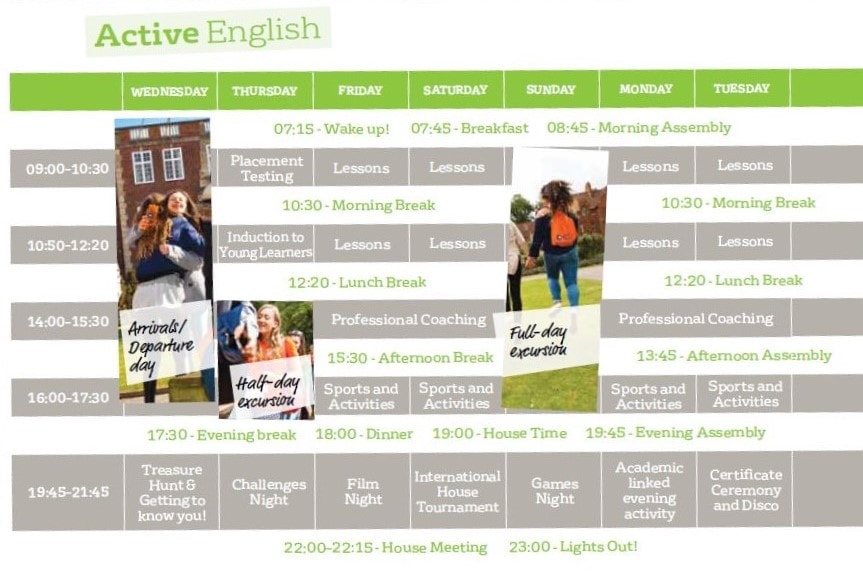 Sample schedule for English Plus




Sample schedule for Football Academy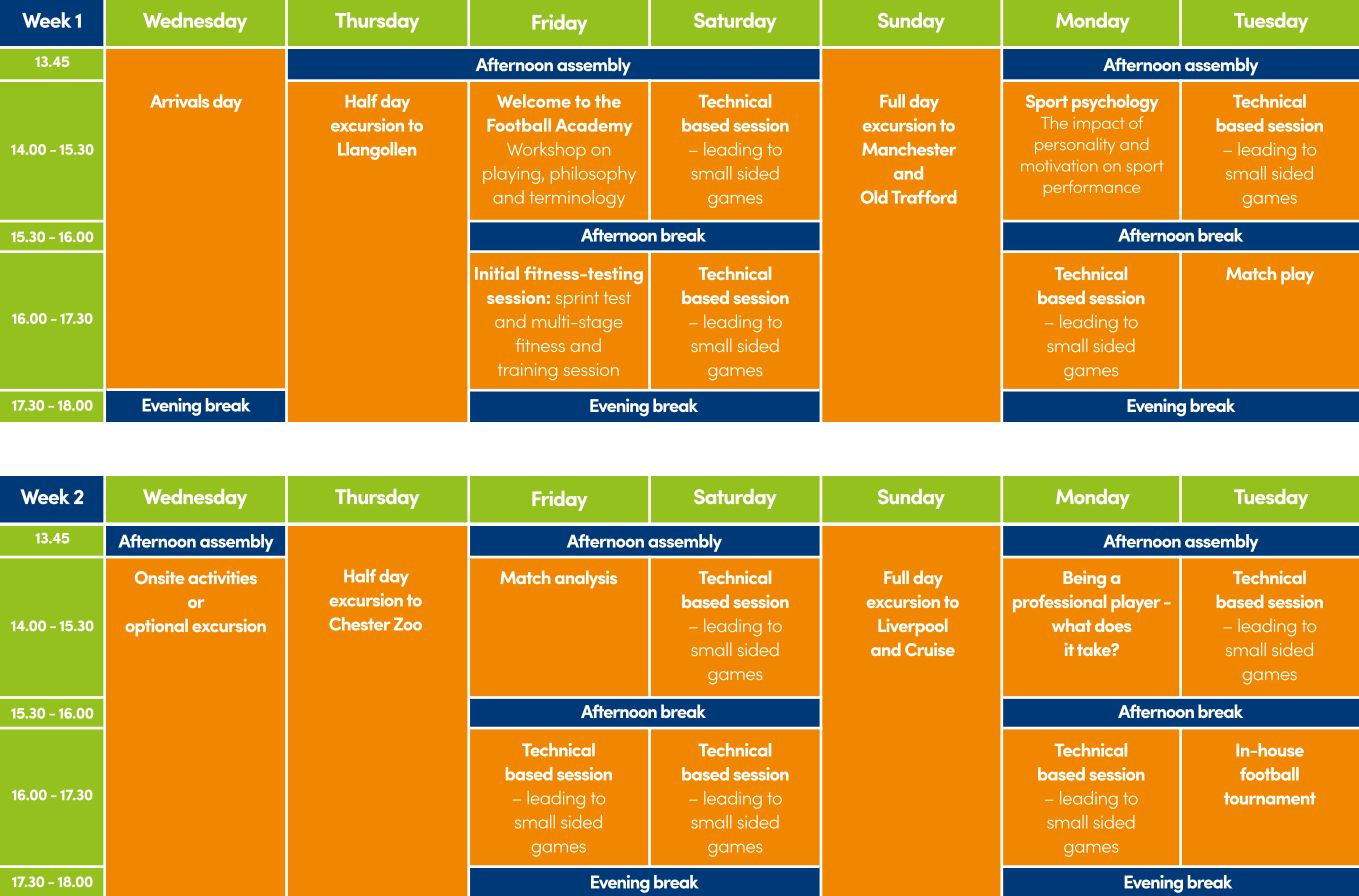 IH Ellesmere is located in the Ellesmere College campus, a boarding school established in 1884. The school is amongst the most prestigious educational facilities in the UK. It is situated near the Welsh border with England, about a one-hour drive from Manchester and Liverpool. The historical building of the school is surrounded by beautiful scenery, with an on-site swimming-pool and playing fields / pitches for golf, football and cricket. There is also a lake nearby, where yachting is possible.


Accommodation
Single-bed, twin, three-bed or four-bed rooms
A closet and a desk are available
Comfortable student lounges with TVs
Drinks and refreshments available in the common areas around the clock
Separated bathroom and sleeping compartments for boys and girls
A free of charge laundry room
Virtual tour